Therapy Services 
WHY THERAPY AT THE Y? When families come to the Y they are part of this community
Individualized and specialized intervention is integrated into naturalistic opportunities. Swimming, fitness club, gymnastics, basketball, meeting new friends, and having hands-on experiences fully enhances learning and carries over across different settings and situations.
SPEECH THERAPY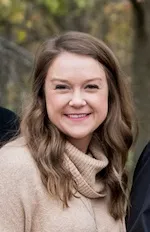 Work with Brittany Booth, our certified Speech Language Pathologist, on speech needs such as social communication, language, and articulation.
The therapist will work with your child to evaluate and develop a therapy plan that meets your child's individual goals. Session times range from 30 minutes to 60 minutes.
Ages
Under age 17

Schedule
Individual Y Therapy sessions available by appointment. Contact Alyssa Anderson, Larkins Place Director at alyssa.anderson@ccymca.net for more information.
Out-of-pocket rates apply. Private Insurance may be utilized as determined.
AQUATIC THERAPY
Pediatric aquatic therapy is led by a licensed therapist trained and certified in the Aquatic Therapy and Rehab Institute (ATRI).
Individual sessions with are designed to provide sensory and motor input in a safe and structured environment. Sessions focus on safety in the water, use of visuals and consistent language. Participation in aquatic therapy may enhance motor planning, strength and endurance and bilateral coordination.
*Parent/caregiver participation is encouraged and may be required.
Cost

30 Minute Individual Session
$60 Member $75 Guest Member
 

Ages

All Ages

 

Schedule

Contact the Larkin's Place Director Alyssa Anderson led by Mindy Borden OTRL/Trained Aquatic Therapist 

 
 

With appropriate documentation and eligibility, these services may be billable to medical insurance. (6 months to school age)