2501 Fields South Drive, Champaign, IL, 61822
Oct 7, 9:00 am
Until 11:00 am
2023-10-07 09:00:00 2023-10-07 11:00:00 America/Chicago LesMills Master Classes Come join us for a morning of fitness and fun with Ashley McCallum, National Presenter and Trainer for Les Mills BodyAttack and BodyCombat. Ashley presented BodyAttack in Los Angeles during Les Mills Live, and we're excited to welcome her to our YMCA! This class is free for our members and ... Stephens Family YMCA Stephens Family YMCA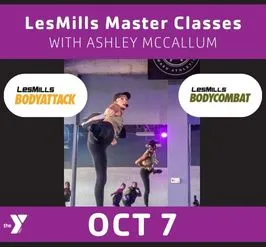 Come join us for a morning of fitness and fun with Ashley McCallum, National Presenter and Trainer for Les Mills BodyAttack and BodyCombat. Ashley presented BodyAttack in Los Angeles during Les Mills Live, and we're excited to welcome her to our YMCA!
This class is free for our members and $10 for guests.
Check out this article about Ashley!