WELLNESS PROGRAMS
Our community's health struggles are well chronicled with the rise of obesity, type 2 diabetes, stroke, heart disease, cancer and other life-altering conditions. The Y is dedicated to helping people understand their risks, and provide the support needed to fight chronic disease, improve mobility and lead healthier lives. Through our community health programs, the Stephens Family YMCA is committed to changing the outcome for people facing significant health challenges and improving quality of life for our whole community.
Learn more about our community health programs below:
Form Check >
As trainers we see common form errors that can lead to injuries. If you have questions about the exercises you perform, join Kevin Khan at times below for a quick form check. No registration required.
Cost: Free for members
Ages: All Ages
Schedule: Tuesdays & Thursdays 9:30-10:30am
                  Mondays & Wednesdays 3-4pm 
Chair-based Fitness Classes/ AOA/Parkinson's Fit Classes >
Our chair-based fitness programs are designed to empower Active Older Adults 50+ and people living with Parkinson's Disease (PD) by optimizing physical function and helping to promote overall strength and stability. Each class includes exercises to improve cardiovascular endurance, strength, flexibility, and balance.
These classes are included with your membership. Guests members living with Parkinson's Disease can attend these classes for FREE.
Current Session:
Monday
1PM Seated Yoga
Modified yoga poses are provided so they can be done while seated in a chair. These modifications make yoga accessible to people who cannot stand, lack the mobility to move easily from standing to seated to supine positions, or want a quick break from other physical activity.
Tuesday & Friday
1PM Functional Chair Fitness
This class will provide training in balance, joint integrity, and range of motion, while providing a low impact alternative to other workout formats that can be performed in or out of your chair.
Wednesday
1PM Strength & Balance
Focusing on your larger muscles, you will build strength with the use of hand weights through basic movement. Additionally, working on standing balance with the use of a chair for assistance.
The Nancy Yanello Cancer Program >
History
The Yoerk Family, Richard and Lynn, along with Express Employment are teaming up with the Stephens Family YMCA bringing Nancy Yanello's Cancer Program to cancer survivors. Nancy was born in Streator, IL on September 3rd, 1942, marrying the love of her life Jerry Yanello on December 1st, 1962. Jerry and Nancy had three children Jerry (Julie) Yanello Jr. of Houston, Texas, Lynn (Richard) Yoerk of Mahomet, IL, and Bob (Kim) Yanello of Joliet, IL. Along with a full-time career and family, Nancy found time to give back to her community of Streator as a volunteer softball and swim coach at the Streator YMCA. Nancy was employed at St. Mary's Hospital as a Lab Technician before retiring from the Red Cross. The NYC Program was established to continue Nancy's legacy. This program will build a foundation with survivor's of all ages, providing an atmosphere for success.

How Does the Program Work?
Survivors participate in a one-on-one customized exercise regimen developed by a Cancer Exercise Specialist. A medical referral (Dr., PA., NP., or PT) and clearance from a physician are required for admittance into this program.
Program Details
• Eight week program
• Two, 30-45 minute sessions per week (16 sessions)
• Each session is with a Cancer Exercise Specialist
• Instruct flexibility, strength training and cardiovascular conditioning
• Assessments pre and post participation available upon request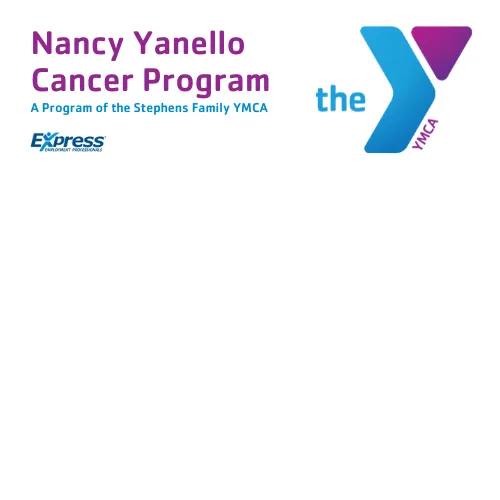 Rock Steady Boxing Affiliation >
FIGHT BACK AGAINST PARKINSON'S
What is Rock Steady Boxing?
Rock Steady Boxing is a one-of-a-kind program, founded in 2006, to provide a uniquely effective form of physical exercise to people who are living with Parkinson's. Though it may seem surprising, this non-contact, boxing-inspired fitness routine is proving to dramatically improve the ability of people with Parkinson's to live independent lives.
Who can participate in Rock Steady Boxing?
Rock Steady Boxing is specific to those diagnosed with Parkinson's.
Program Details:
Sessions are offered monthly. Registration is required.

Schedule: Tuesday, Wednesday, & Thursday 11:15am-12:30pm
Cost: $40/member | $115/guest member